The global maritime communications hub Inmarsat announced earlier this year a pair of new technology offerings – ORCHESTRA and ELERA – which are touted as "the communications network of the future". We caught up with Ronald Spithout, President of Inmarsat Maritime, to get additional insight into how these services will power the future of maritime IoT.
As digitization and IoT continue to drive innovation in the maritime industry, satellite communication will serve as a conduit, and the mantra is smaller, faster and cheaper. Inmarsat, which today derives approximately 50% of its turnover from the maritime sector, anchored on its Fleet Xpress digital platform deployed in 2016 and now on 12,000 vessels, continues to play its role of innovator with the development of a duo of new offers promising to help shipowners further harness the potential of online and digital solutions.
Meet the orchestra
"In my opinion, with an engineering background, (ORCHESTRA) is just cool," Spithout said. "We call it the communication network of the future because it will redefine our mobility offer in industry, not only in the maritime sector, but in all vertical sectors. It does this by leveraging all kinds of underlying networks that we have. "
Inmarsat ORCHESTRA is designed to be a "global, multidimensional and dynamic mesh network that will redefine connectivity at scale," as Inmarsat said when it was introduced this summer. ORCHESTRA is designed as a seamless configuration of Inmarsat's ELERA (L-band) and Global Xpress (Ka-band) networks with targeted terrestrial 5G capability in low earth orbit (LEO), a layered approach complemented by a 'dynamic mesh network' , which allows individual terminals to act as nodes to route traffic to and from other terminals.
"Depending on where you are and what you need, the 5G element automatically recovers the best performance needed for your application," Spithout said. In keeping with the adage that the number is powerful, "it will be a dynamic mesh network, in which the ships repeat each other," the same way a home router handles WiFi.
The layered approach is designed to meet the growing bandwidth needs of more diverse, demanding and increasingly widely adopted applications in the commercial and government mobility markets, as Spithout explains, Inmarsat "targets markets which absolutely depend on critical mobility ".
ORCHESTRA is part of the evolution and revolution, as it combines the power of existing Inmarsat services and satellites, while adding dynamic mesh technology and additional low-orbit satellites as needed.
---
Image courtesy of Inmarsat
---
Meet ELERA
Together with ORCHESTRA, ELERA is designed to be a catalyst for increasing IoT solutions in all vertical markets that Inmarsat serves, including marine and offshore energy.
"The drivers (for ELERA) are the accelerated demands on IOT and the continued growth of functionality where you need them for your security services," said Spithout, noting that the new technology is designed to be smaller, lighter, faster and cheaper, and confirms Inmarsat's commitment to L-band services.
ELERA will be designed to create the most compact and cheapest terminal for L-band users, according to Inmarsat "providing the ideal framework for large-scale satcom IoT with support for cloud-based management" . Inmarsat is launching a pair of new satellites to enhance the ELERA network, with the first I-6 satellite to be launched in late 2021. The I-6 satellites are important because the L-band capacity on each I-6 will be significantly higher than that of the spacecraft. 4th generation spacecraft and, among other improvements, they will offer 50% more capacity per beam.
New innovations in which Inmarsat is investing include spectrum management technology to deliver L-band speeds of up to 1.7 Mbps, the most compact, cheapest L-band terminal and two new L-band satellites.
New spectrum management capabilities (known as carrier aggregation) built into the ELERA network will deliver the world's fastest speeds available to L-band customers, according to Inmarsat.
Live customer trials in commercial aviation are expected to begin during 2022 and the technology will be deployed in the years to come.
---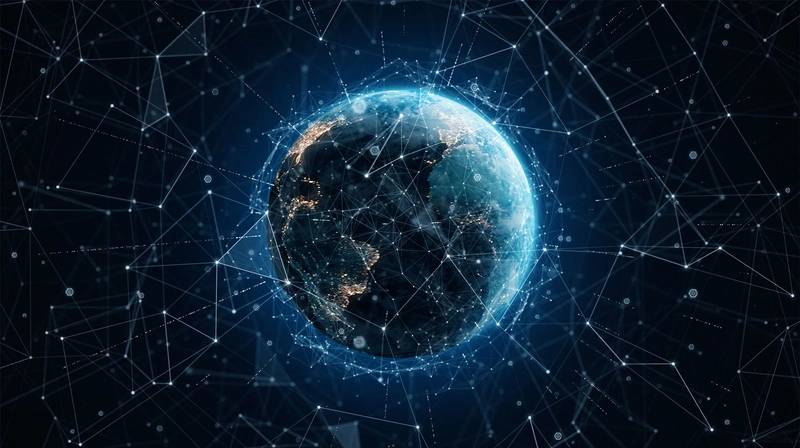 As digitization and IoT continue to drive innovation in the maritime industry, satellite communication will serve as a conduit, and the mantra is smaller, faster and cheaper. Image courtesy of Inmarsat
---
COVID-19: the acceleration of digitization and the sailor
The COVID pandemic has helped accelerate trends in IoT and digitization in tandem, across industries. And while Inmarsat plays a central role in this high-tech phenomenon that drives the efficiency of shipping and business, Spithout focuses first on digitization as it applies to the human aspects, in particular the fate of seafarers.
As has been well documented, COVID has had a dramatic negative impact on the 1.6 million seafarers worldwide, and a majority of countries still have not declared seafarers as "key workers," a designation that would help facilitate more efficient crew changes. . The situation, which is now improving but remains pervasive, has had a tremendous impact on the physical and mental health and well-being of the seafarers, men and women who helped operate ships and global commerce during the pandemic.
"People tend to forget that over 90% of (most of everything you buy) gets to you by ship," Spithout said. While this can never replace human interaction, Spithout said all equipped ships could use a digital link to provide connectivity for social interaction between sailors and their families and friends, while also providing the channel for quickly and effectively deploy physical and mental health assistance. "It was proof that we, along with our application partners, could quickly deploy it to ships while they were at sea. This is one side of the digitalization that has had a huge boost because of COVID, but it is not the right one because it came on the backs of the sailors who are suffering. "
By examining the myriad of businesses that generate their income by being in physical contact with the ship, the rapid advance of COVID has effectively thwarted this basic connection, forcing businesses and stakeholders to find other ways to work. Enter the IoT.
"At the start of the pandemic, many of these ships could not be 'affected'. You couldn't get to the ship, "Spithout said. "It made people realize that not only do they need a different way of working to get around the fact that they cannot physically visit ships, but also that you can change the way you deliver your services by intelligently using applications on a platform ", for example touting the accelerated use of remote inspection technologies by classification societies.
---
Watch the full interview with Ronald Spithout, President, Inmarsat Maritime, on Maritime Reporter TV